Store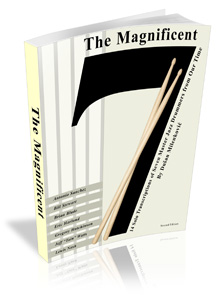 This book is dedicated to all the drummers who have influenced me through their passion and commitment to the art of drumming.
This is the first book to present some of the work of jazz drummers of the 21st century. It provides an eye-opening look into the fascinating world of jazz drumming. It is designed to improve your soloing skills and challenge both reading and technical proficiency.
Over 500 clearly and precisely notated bars that can be broken into literally thousands of combinations/ patterns that you can instantly use and incorporate in your own soloing vocabulary.
Audio/video material, which is instantly available online, providing the student with a wide range of references as an opportunity to hear the masters in action.
This book is a must-have that should be in every serious drummer's library. A valuable companion to your journey as an evolving drummer!
---
The price is €24,90 incl worldwide shipping
Place your order today!
Get an autographed copy from Dusan. You can indicate this when you order.
"The Magnificent 7"
– 14 Solo Transcriptions of the Master Jazz Drummers from Our Time –
By Dusan Milenkovic
This instructional book is available only in English.
We're using PayPal to process payments.
The price of the book is €24,90 incl worldwide shipping.
Please allow 2 to 4 weeks for delivery.