Instructional
Private lessons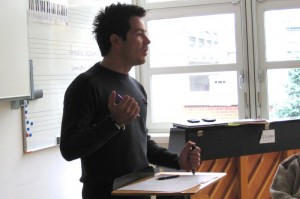 Dušan regularly teaches at the Vienna International School, Austria.
He has kept a busy teaching schedule since moving to Vienna in 2001. He mostly specializes in advanced level instruction, including jazz phrasing concepts and an approach towards technique, which focuses on efficiency and letting your body's natural mechanics work uninhibited.
With that said, all levels of students are welcome! Whether you're just starting or if you want to take your playing to the next level. Contact me for hourly rates, scheduling or if you have any other questions.
I also I teach lessons all around the world using Skype.
You will need a strong Internet connection and a computer with video and audio capabilities. I will give you months of materials to practice each lesson.
Contact me!